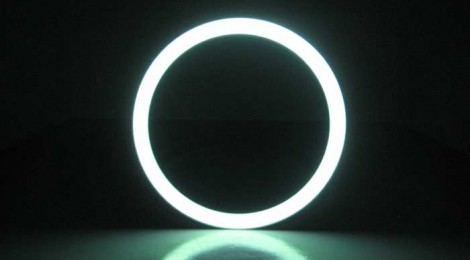 Light Space Modulators
HC Gilje works at the intersection of visual art, performance and architecture. The last couple of years he focussed on transforming physical spaces with light and sound. At iMAL in Brussels he has developed two site-specific works that reflect his interest in creating a dialogue with space.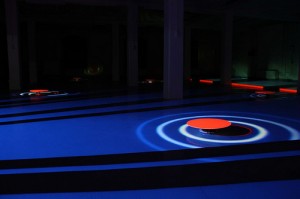 In one room with multiple columns projected shadows take over real ones. At different intervals the space changes according to projected light and color that sweep through it. Scattered sound modules make you look over to the other side. They emit very minimal sounds, which seem to make light ripple like stones thrown in water.
"Developing a work means creating a dialogue with me and the space; I add something and it gives something back, that is my approach. That way something different emerges. At iMAL the columns structure is very striking, so extending the shadows and use light and dark to mask them was a logical step."
Gilje started to work with realtime video software with live cinema performances as a member of 242.pilots around 2001. This live improvisation context continued in his work with dance company kreutzerkompani and musicians like Jazzkammer. In recent work the performers are gone from the stage, only objects remain.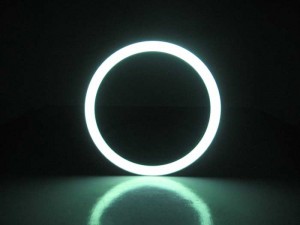 The works currently on display at iMAL show a similarity with earlier work like 'Blink', a contemplative audiovisual installation. Here Gilje also plays with reflections, the mirroring and doubling of an object, thereby creating volume out of flat materials. In the smaller space this object is a simple circle; the projected light changes the circle, its shadow and the reflections on its surroundings.
Although the space itself is static, the projections add a time element to it. "I have this fascination for time and creating temporal spaces, to slow things down or speed things up. The movement through a space or a form has a temporal dimension which I find interesting."
Gilje developed a free multipurpose realtime projection tool called VPT, which can be used for projecting video on complex forms. "I was moving away from using concrete images and narrowing it down to light, space and architecture, but there were no tools that allowed me to do what I wanted. Also when I was doing workshops there was a real need for this kind of easy access tool. So the last three or four years I worked on the VPT software to mainly be able to mask and map out certain areas. These software tools are my means of improvising with space."
Light Space Modulators
Conversations with Light, Sound and Architecture
until May 22th 2011 at iMAL in Brussels.