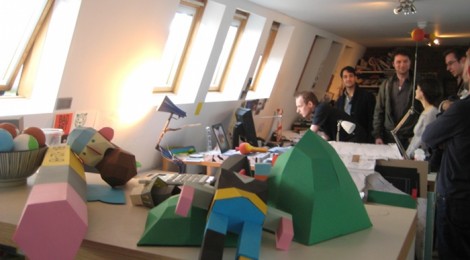 Reporting from London
Last year, art academy AKV|St. Joost in Breda started a master course Professional Animation. An important aspect of this course is building up an international network. I had the pleasure of joining the students on a trip to visit some of London's most talented people in the field of animation and beyond; Studio AKA, Nexus Productions, onedotzero, United Visual Artists (UVA) and Picasso Pictures. All of them operate at the intersection of artistic and commercial work, and are multidisciplinary in their outlook. What do they see as the most interesting developments at the moment?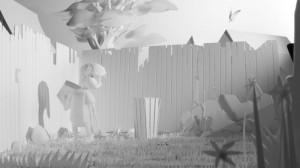 The real revolution
Although the digital revolution has been proclaimed before, only now do we see the real change happening with a new generation of artists that has grown up within this culture. This shift is for example noticeable in audience reaction at the onedotzero festival: "Previously a lot of the stuff we showed was really surprising to people, when now they will look at it and also be entertained by it. The internet has played a part in making things more international, and something like computer gaming has become more mainstream," Shane Walter, CEO of onedotzero, explains.
Both Philip Hunt (creative director of Studio AKA) and Walter are excited about what this will mean for audiovisual art. Hunt singles out the latest BAFTA winner Michael Please as one to watch, a student from the Royal College of Art that made 'The Eagleman Stag' (watch trailer of The Eagleman Stag), a film which had its premiere at onedotzero. Walter sees computer code as a raw material you can sculpt with. Being able to use this language and the kind of creative control that comes with it, is something people are just beginning to grasp. Walter mentions smart craft as an example of the direction this movement might take. Karsten Schmidt, who works closely with onedotzero and made the generative identity for onedotzero 2009 as well as the Decode exhibit at V&A, is now developing something that combines paper craft with computer coding in a very fluid way.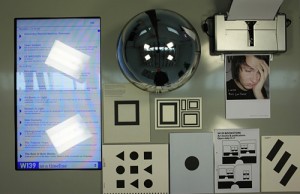 Realtime is the new buzzword
Another development having a big influence on current practice of media campaigns for artists or institutions are social networks, and the level of interactivity connected to it. "Projects used to be finished when a campaign started, but now that's only day one", says Cedric Gairard, executive director of Nexus Productions. "You have to keep logs in the fire, tweak and feed the project for as long as it runs." Nexus just finished a project for the band Maroon 5, for which they recorded a song in a 24h session, inspired by fans around the world. Another noticeable example is 'The Wex Machine' by Roel Wouters, an installation developed for art space W139 in Amsterdam. This installation consists of a table which is photographed every 5 minutes, and put on the W139 website, with visitors being able to easily leave an instant message.
The broadening of the competition provides a challenge. "At pitches you compete with people from the gaming industry, tech, etc. Sometimes this can be frustrating as a client can choose different companies for different tasks within a project, in that case keeping a strong identity becomes very difficult."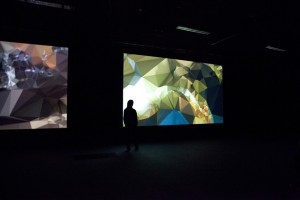 Where artistic meets commercial
Nexus encourage their artists to go in and out of the art world and commercial world, as to not get stuck in a certain thinking mode. "The edge of art still brings freshness to commercial projects." Gairard mentions the work of Quayola who made 'Topologies' (commissioned by BFI and onedotzero); iconic paintings are being transformed by custom made software into digital fabrications. Quayola is an example of an artist drawn into the museum and gallery setting more and more. "With public funding disappearing, museums for example are incorporating branding and communication through media campaigns to get the public's attention. The brand can be a conductor bringing art outside the museum."
The division between art and commercial is becoming less relevant in this context. Most of the studios easily combine the two worlds in their practice; the directors represented by Picasso Pictures use their own unique style in both commercial and independent productions. UVA combine commissioned projects for museums like V&A and National Maritime Museum with developing software for light shows for bands like U2.
Cultural awareness
For onedotzero being first to spot interesting developments means to be culturally aware. "From the beginning onedotzero was always about artists experimenting with their medium, pushing the limits and having a certain cultural awareness", says Walter. Knowing the name of this or that director is one thing, but they all operate within a certain context, and understanding that context will give you a broader view on what's happening. He mentions the network that grew out of Processing, open source programming software developed by Ben Fry and Casey Reas. "It's probably one of the most important events in the last fifty years. Books are published about it, the community of artists using the program is continually growing. And they just gave it away. This type of thinking is becoming more important." The already mentioned identity for the Decode exhibit is made with the same software and philosophy in mind. Others could change the parameters on a code level and create their own version of the generative work.
Decode by Karsten Schmidt on Vimeo
Thanks to all the people who were kind enough to talk to us and also to Leon van Rooij (director Playgrounds Audiovisual Art Festival) and AKV|St. Joost for making this possible.