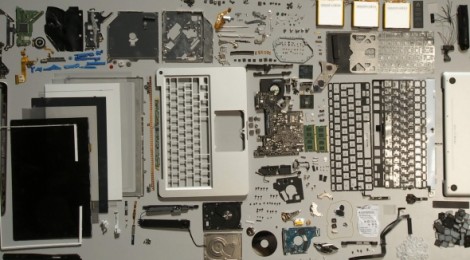 Review Artefact Festival
Artefact Festival – The Emergence of Things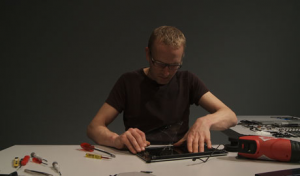 If James Cameron is the Steve Jobs of cinema, then Steve Jobs is the James Cameron of the computer, says Herman Asselberghs in his new video 'Dear Steve'. Both Cameron and Jobs strive for ultimate transparency, total immersion. 'Hold a whole website in the palm of your hands', Jobs says presenting the iPad. But it is hard to think of the laptop as the ultimate means of communication when it's turned inside out. In 'Dear Steve' Asselberghs is taking apart a MacBook while we hear his letter to Steve Jobs being read aloud. Asselberghs wants to break down the transparent medium, to make us aware of the politics behind it.
All the artists at the Artefact Festival in some way or another disassemble their medium. Sometimes to make a political statement, sometimes to turn the medium on itself. Most media are taken for granted, they are not meant to be seen. But some artists try to make us aware of their implications. Throughout history there has been a steady stream of works showing us how media determine the way we view the world, but also that it's possible to see things in a different light. At Artefact they are brought together to form an impressive exhibition.
Morgan Fisher made 'Production Stills' in 1970. Production stills are usually made during the making of a film for promotional purposes. But in Fisher's work the making and showing of these pictures are the goal and subject of his film. You hear the sound of people in the background while you are looking at this empty wall, and hear a Polaroid being taken. The picture is put on the wall, and the voices are given faces, the sounds a context. The film plays with the anticipation of the viewer, with film conventions, deconstructing them.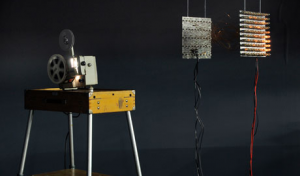 Gebhard Sengmüller is a more recent example of an artist preoccupied with how media work. Two works are presented at Artefact, both connected to television in some way. 'A Parallel Image' (2009) provides a kind of alternative for the way television transmits moving images, and makes it completely transparent. Each individual 'pixel' is transmitted through copper wires connected to LED's. This particular version of the installation is smaller then the one that was exhibited at the Transmediale festival last year, and it's interesting to see that this set-up evoked a more contemplative attitude; in Berlin it invited more interaction and playing around. You couldn't be on the one side and see yourself on the other, so you only watched other peoples 'shadow'. The version in Leuven has this extra layer of projection; the moving image that is transmitted through the LED's can be seen on the opposite wall. So it maybe is more truthful to the concept of the work than the one in Berlin.
'Very Slow Scan Television' (2005), another work by Sengmüller, builds on the principles of slow-scan television, a transmission system used by amateurs. Broadcasts of this historic system are translated onto bubble wrap with a plotter machine with needles and colored ink. With a frame rate of one image per day it does its name justice.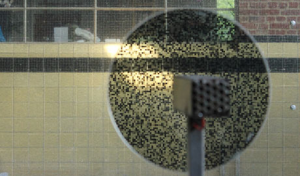 Like Sengmüller, Belgian artist Wim Janssen also makes us aware of the hidden parts of technology, as a sort of tribute. Digital television will mean the end of static on our television screen. Static is an unintentional byproduct of technology, but in 'Static' (2010) Wim Janssen willingly imitates this phenomenon. Looking at the big screen consisting of 43.000 miniscule squares (handmade!) cut out of a polarizing filter nothing moves, but if you look through the rotating disc – also a polarizing filter – the screen comes alive with flickering black and white pixels.
The Artefact Festival doesn't go for innovative or new for the sake of it. In some way the festival is about the same things compared to previous editions, but with a different perspective, so different dialogues emerge. Apparently mixing historic works with more recent ones, where new media bring up new issues, makes for an inexhaustible source of material. With media becoming more and more transparent, the importance of artists reflecting on it, making us aware of their influence and modes of manipulation, but also of our ability to see through them, makes this festival as relevant as ever.
Artefact Festival, STUK Leuven, 15-24 February 2011.
www.artefact-festival.be