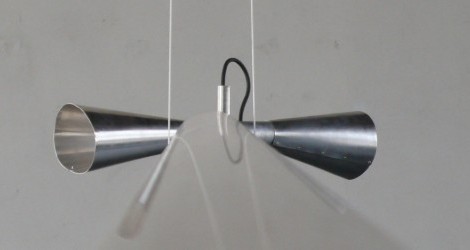 Expo Overtoon
Overtoon – a platform for research, production and distribution of sound art and media art grounded in a sonic approach – launches its activities of the year with an exhibition at iMAL in Brussels.  The exhibition presents new installations combined with prototypes or work-in-progress produced by Christophe De Boeck, Aernoudt Jacobs and artists-in-residence Jeroen Uyttendaele and Jeroen Vandesande. The show will give you a glimpse of their working process and is completed with some recent and older works.
One of the works presented is 'Phantom Melodies' by Aernoudt Jacobs, an installation with a number of self- constructed rotating speakers (see picture), each producing a specific stream of sounds based on field recordings from the Amazon forest. The speakers are placed in the space where visitors can walk around freely. The sounds produced are constantly shifting, making it a spacial experience. Another work is 'Leeway' by artist-in-residence Jeroen Uyttendaele, which uses the conductive properties of graphite (some might be reminded of earlier work in collaboration with Dewi de Vree); the visitor is invited to 'operate' the graphite drawings to change the course of a generative sound composition.
Thursday April 25 Overtoon organizes a lecture with Prof. Dr. Christ Glorieux about acoustic phenomena and applications of acoustics.
Expo Overtoon
at iMAL, Brussels
April 17 – May 19 2013
Wed-Sun 2-6 pm
Free entrance
Lecture Prof. Dr. Christ Glorieux: April 25 2013, 8 – 10 pm