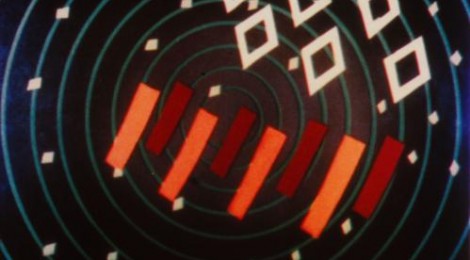 Experiments with sound
Two good reasons to visit Amsterdam, both focusing in some way on visualizing  or experiencing sound: the Oscar Fischinger exhibit at EYE and the exhibition accompanying the Sonic Acts Festival of 2013.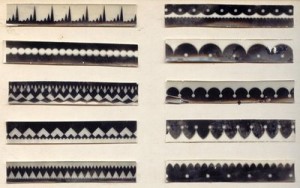 In collaboration with the Center for Visual Music in Los Angeles EYE presents the work of Oscar Fischinger, a pioneer of the animation film and abstract cinema. Not only does the exhibition show his films and paintings, but also pays attention to his inventions, like the wax slicing machine, and early experiments, which have recently been restored. So although familiar with his work, there were a lot of new things for me to see, and also the set up at EYE made you take time for every work; film, painting and historical documents were alternately presented in spacious rooms. I especially enjoyed the part about his ornament sound experiments: by drawing graphical shapes on the filmstrip, both on where the sound is recorded as well as the image, image and sound were unified. Each graphical shape had its own tone (or the other way around).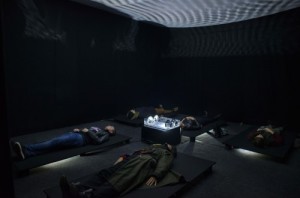 The same day I went to the opening of The Dark Universe, part of the Sonic Acts Festival 2013, featuring installations from artists like HC Gilje, Ivana Franke, Semiconductor and Yolanda Uriz. The theme of experiencing sound and image in a different way returned here, when I was lying on the vibrating platforms of 'Kulunka', an installation by Yolanda Uriz. Low frequencies are transmitted to water in a glass container, creating patterns of waves above you. These are a visualization of the vibrations you feel in your body, which at times (especially with the switching of frequencies/tones) really immerse your senses. Hard to describe, it certainly is an experience. Because it was so busy at the opening, I did not spend enough time with every work presented at the expo, but all focused on basic elements of light, sound and sensory experience. Ivana Franke's work for example, 'Seeing with Eyes Closed', invites you to sit in front of a 'screen' of LED lights with your eyes closed. The flashing lights produce a "quasi-hallucinatory visual experience of flowing images behind closed eyes". Each person's experience of it is apparently different. I am definitely going back there to take a better look.
'Oskar Fischinger (1900-1967): Experiments in Cinematic Abstraction', until March 17 at EYE, Amsterdam.
'Sonic Acts 2013: The Dark Universe', January 12 – Feb 24 (Exhibition at NASA), Feb 21 – 24 (Conference & Festival at De Balie/Stedelijk Museum/Paradiso), Amsterdam
(picture 'Kulunka' by Pieter Kers)